Cloth Diapers, Mama Pads, and More!
January 17th, 2008
---
Posted on 2008.01.17 at 23:38
Well, it's not really a surprise, since I've been telling her I was going to make it for her for, what, six months now? Seven months? So I suppose the surprise is that I finally MADE IT!!!
It's my first-ever MINKEE diaper! And it wasn't as scary to sew as I thought it would be. I sewed a gift bag for my mom for Christmas using the same minkee, and it was surprisingly non-aggravating. I guess it varies from minkee to minkee, just like difficulty varies from different PULs and different velours. Some give you shit, some don't.
The fabric was cut with my old pattern, which has a little less butt coverage than my new one, but it's not too drastically different. And yes, there are nine rows of snaps, not eight. *puts bag over head* I am completely incapable of lining up snaps evenly, and there was two inches of extra room on one wing, so I added another row of snaps. No biggie.
I made it for this gorgeous little girl, Mandy's daughter Bella: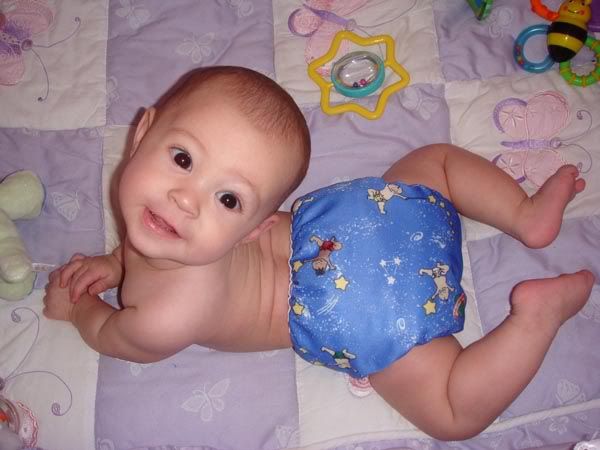 Is she not the most beautiful baby EVER?! Isn't she?? I hope it fits, Mandy!
---